Beverly Laurel Hotel - Los Angeles
34.07592010498047

,

-118.3645248413086
Los Angeles

,

United States

|
166US$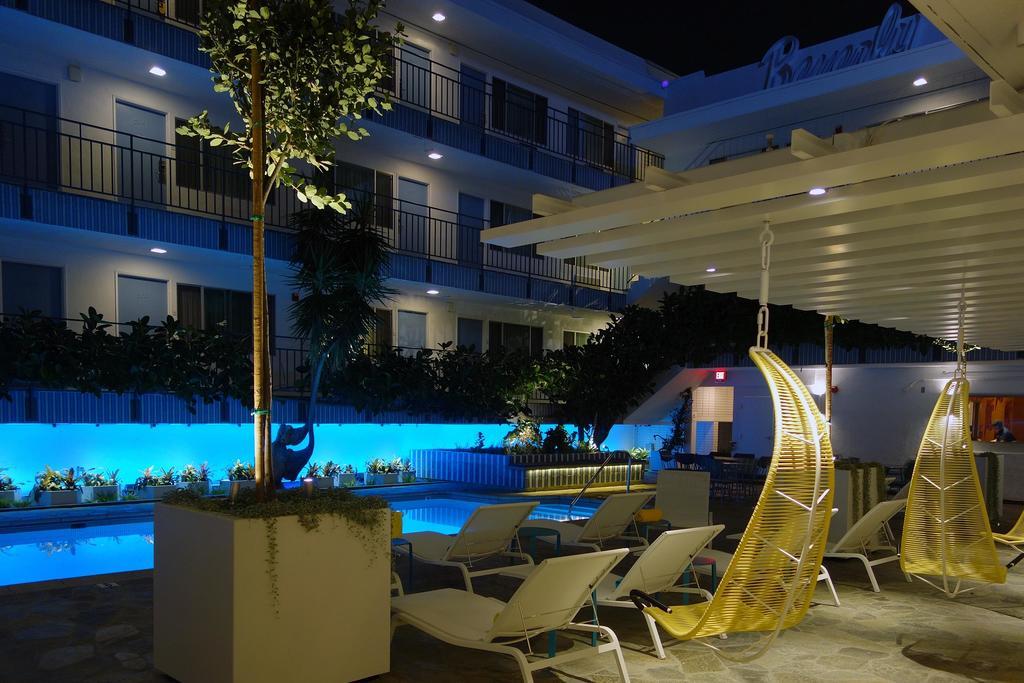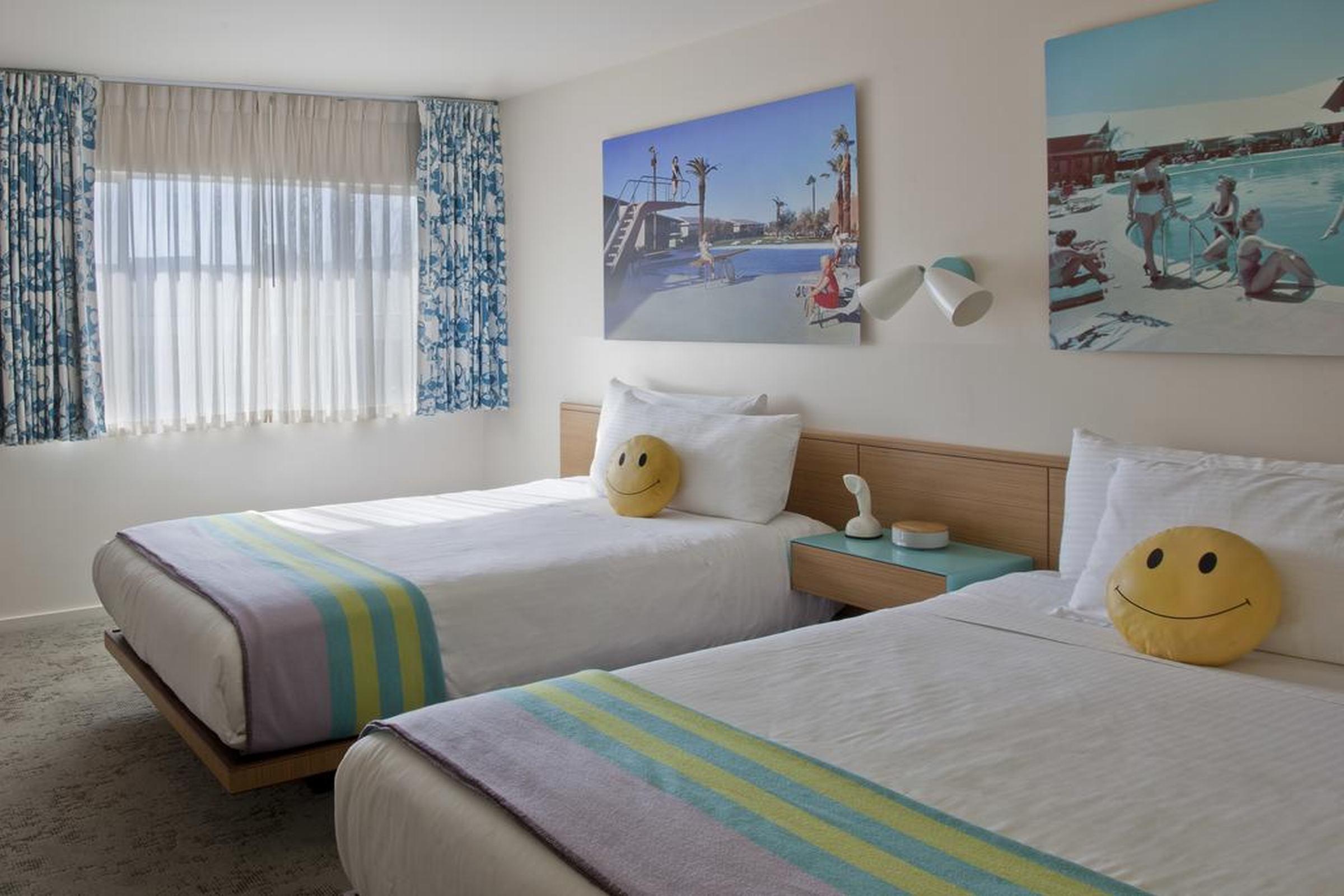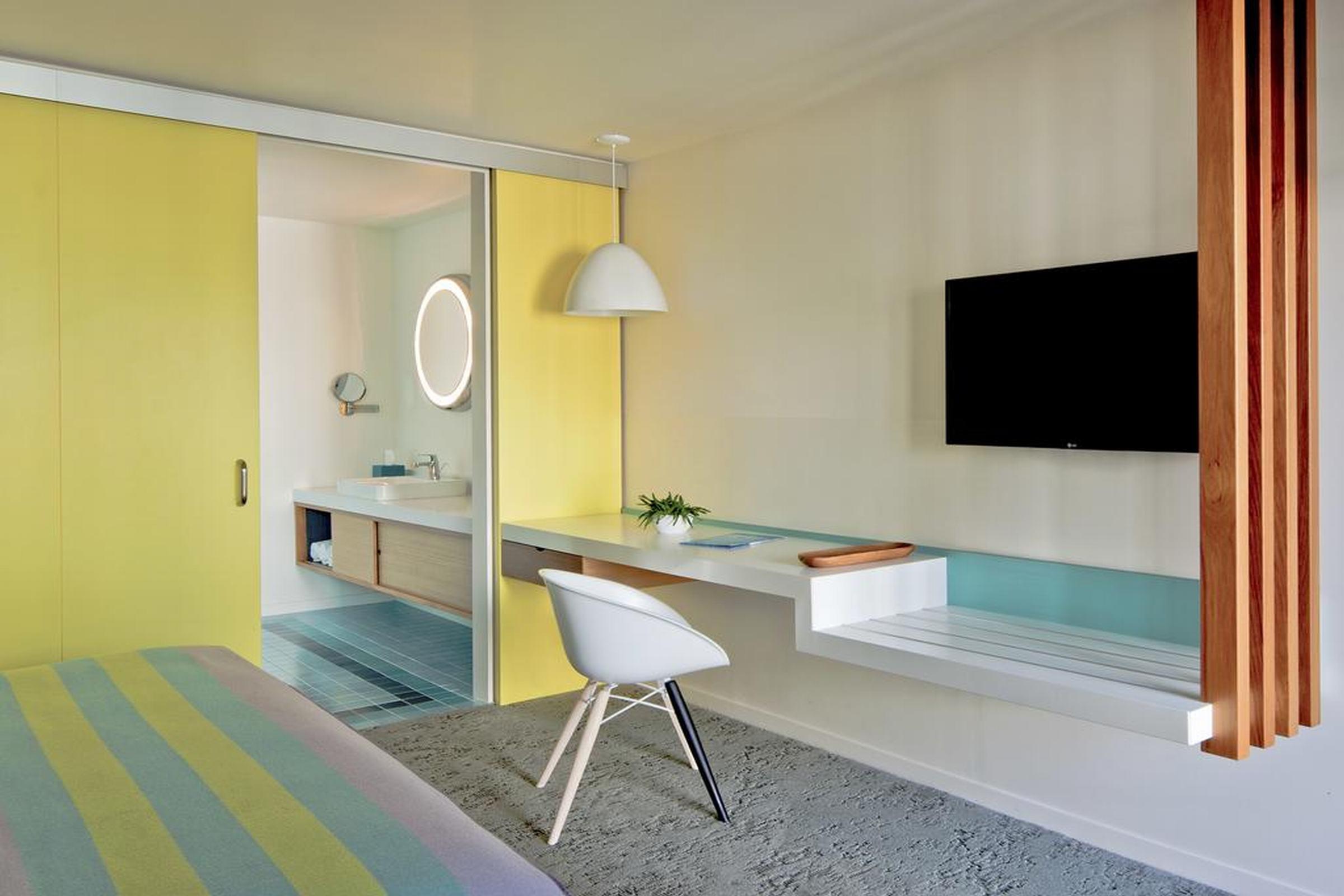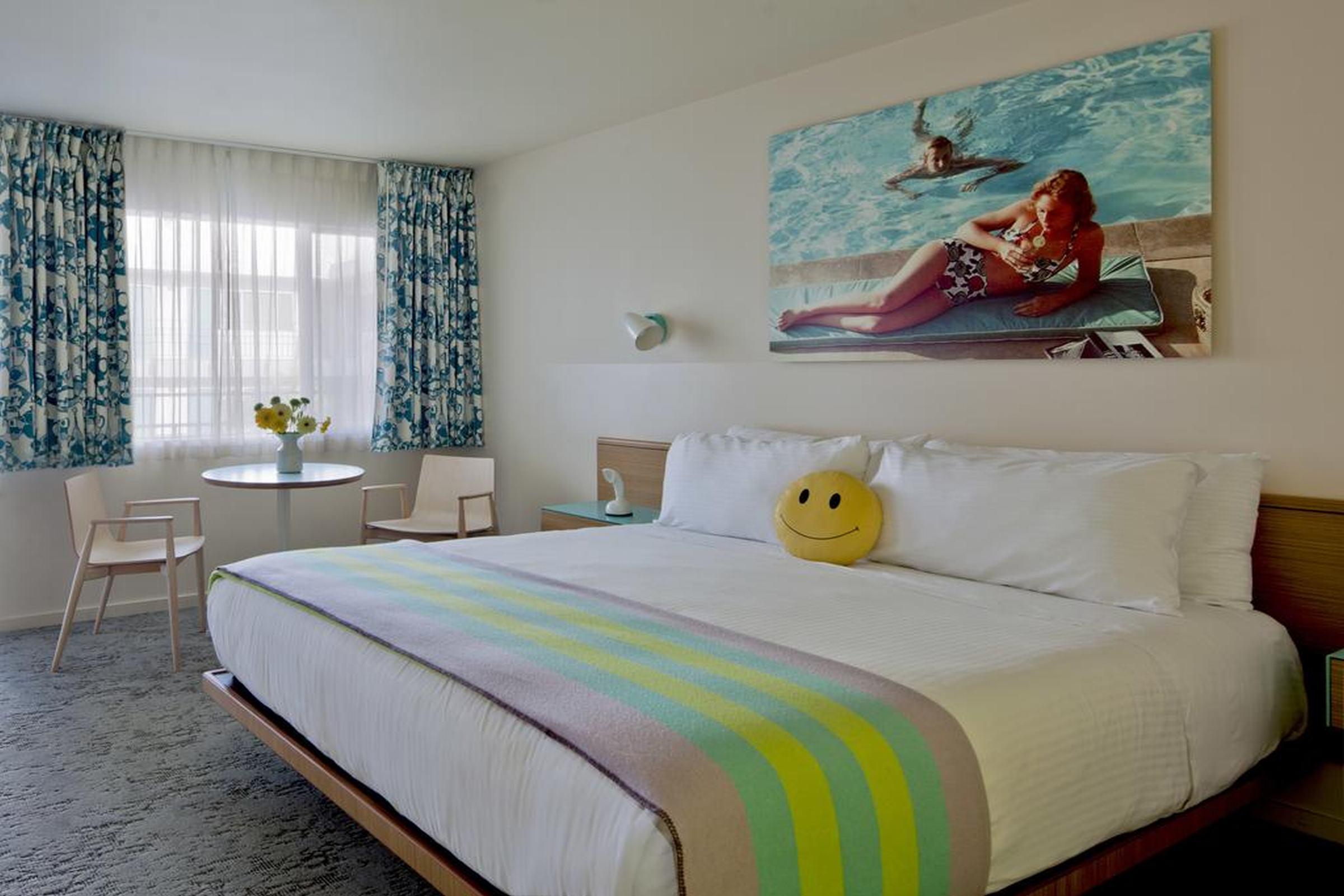 Address
8018 Beverly Boulevard
,
Los Angeles
,
California
,
United States
, California
Overview
Beverly Laurel Hotel Los Angeles is 3-star accommodation with a terrace, located around 25 minutes' stroll from the large-scale assemblage Public Art "Urban Light" Sculpture. This hotel offers WiFi throughout the property and has computers and a desk.
Location
CBS Television City is located 0.3 miles away from the Los Angeles hotel, and such natural sites as Plummer Park is 5 minutes away by car. The sprawling historic Original Farmers Market is walk from the accommodation, while Los Angeles International airport is 13 miles from it. Surrounded by hills and parks, this hotel is next to a mall, shops and a market. There is Hollywood Walk of Fame 2.6 miles from Beverly Laurel Hotel.
Thanks to a location within spitting distance of a bus stop, the property is well-connected with other parts of Los Angeles.
Rooms
The rooms overlook the mountain and feature a flat-screen TV with satellite channels along with tea/coffee making equipment. Some units are fitted with a private bathroom with a tub and showers.
Eat & Drink
Benito's Taco Shop offers Mexican dishes and lies within 850 feet away.
Leisure & Business
An extra charge applies to a sundeck and an outdoor swimming pool. The Beverly Laurel features a spa-center for guests to relax in. Beverly Laurel Los Angeles offers sports activities including hiking and golf.
Internet
Wireless internet is available in the entire hotel for free.
Guest Parking
Private parking is possible on site at USD 25 per day.
Number of floors:   4.  Number of rooms:   52.
Facilities
Most popular facilities
24-hour services
24-hour reception
24-hour security
Food/ Drinks
Restaurant
Picnic area/ Tables
General
Wi-Fi
Parking
24-hour services
Food/ Drinks
Fitness/ Gym
Swimming pool
TV
Services
Room service
Housekeeping
Tours/Ticket assistance
Dining
Restaurant
Picnic area/ Tables
Business
Business services
Fax/Photocopying
Facilities for people with disabilities
Toilet for disabled
Bathroom for disabled
Spa & Leisure
Outdoor swimming pool
Sun loungers
Sun terrace
Room features
Air conditioning
Heating
In-room safe
Sitting area
Dressing area
Garden furniture
Tea and coffee facilities
Good to know
Check-in
from 15:00-23:59
FREE
Check-out
until 11 am
FREE
Pets
Pets are not allowed.
Rooms and availability

Bed options:

Max:

4 persons
Deluxe King Room Mobility accessible

Bed options:

Max:

2 persons

Bed options:

Max:

2 persons
Pool view

Shower

Coffee machine

Heating

Air conditioning
Location
8018 Beverly Boulevard
,
Los Angeles
,
California
,
United States
, California
City landmarks
Nearby
Restaurants
Hotels nearby
Museum
Los Angeles County Museum of Art
1.1 mi
6060 Wilshire Blvd
Petersen Automotive Museum
1.1 mi
Museum
The La Brea Tar Pits and Museum
1.5 mi
Theme Park
Universal Studios Hollywood
4.3 mi
Market
The Original Farmers Market
2500 ft
Museum
Los Angeles Museum of the Holocaust
3500 ft
Museum
Zimmer Children's Museum
1.1 mi
8439 W Sunset Blvd
Hacienda Arms Apartments
1.4 mi
Hollywood Blvd at Vine St
Hollywood Walk of Fame
2.5 mi
Gallery
Artspace Warehouse
4400 ft
North Sweetzer Ave.
Mansion owned by Johnny Depp
1.3 mi
8218 W Sunset Blvd
Rocky and Bullwinkle Statue
1.5 mi
Doheny Drive to Vine Street Beverly Hills and Hollywood
Mall
Nordstrom The Grove
2900 ft
5814 Wilshire Blvd
Craft Contemporary
1.1 mi
835 N Kings Rd
MAK Center for Art and Architecture -- Schindler House
4500 ft
6333 West 3rd Street
Huntington Meats & Sausages
2100 ft
Mall
Beverly Connection
3500 ft
Hospital
Cedars-Sinai Medical Center
4900 ft
5512003032
Rancho La Brea Adobe
2800 ft
5905 Wilshire Blvd
Public Art "Urban Light"
1.2 mi
Restaurant
Kaya Street Kitchen
1300 ft
Restaurant
Joom Bangkok Cafe
1300 ft
Getting around
Airports
Los Angeles International

(LAX)
10.8 mi
Hollywood Burbank

(BUR)
11.7 mi
Train
Wilshire / Western (LACMTA station)
4.4 mi
Metro stations
Hollywood/Highland
2.3 mi
You can book a shuttle, once your reservation is complete.
Reviews of Beverly Laurel Hotel
Alan

Perfect Location and Friendly Staff. Being centrally located, I could explore this city's tourist attractions and nearby restaurants with ease. The hotel's proximity to bus stops and subway stations made transportation easy for me. The staff was welcoming and always ready to help and made my stay more comfortable.

Nothing.

Frederic

Complementary breakfast and free shuttle to nearby shopping mall were great treats. The location was perfect, close to all the major attractions. The room was spacious, clean and well-equipped with modern facilities.

The Christmas dinner served at the hotel's restaurant was a total disappointment; the turkey was dry, the vegetables were overcooked and the dessert was bland. The hotel staff was not very friendly or helpful when we complained about the meal. The noise level near the pool was unbearable, and there was no way to escape it as our room faced the pool area.

James

The room was clean and stylish with a retro vibe that made the stay fun. The staff was very accommodating. They went the extra mile to make sure our room was prepared exactly as we requested with a love note and candy bar on each pillow. We also appreciated the complementary amenities such as Wi-Fi and parking. The hotel's location was perfect for us with easy access to nearby attractions and restaurants within walking distance.

Unfortunately, the TV had a glitch on every channel which was frustrating. Also, we needed an iron and ironing board which were not included in the room but the staff quickly brought them upon request. the stay was enjoyable despite ongoing renovation work which caused some inconvenience such as a non-working elevator and a ripped-up pool area. We were told the work should be finished by May.

Stuart

The room we had included central heating, multi-channel television and a microwave oven. The location was marvellous, close to Baba Sale Congregation.

Jackson

Very comfy bed, spacious bathroom and central heating, multi-channel television and a microwave oven in the room. The views over swimming pool. Ideal location, near Shopaholic.

Henry

The hotel's location is fantastic with just a short walk to an amazing farmer's market, providing fresh produce and delicious food options. Additionally, the view from the room is breathtaking and the leisure facilities, such as the pool and gym, were top-notch and made our stay even more enjoyable. We were also impressed with the friendly service and the hearty breakfast offered every morning.

The hotel's Wi-Fi was unreliable, which was a minor inconvenience for our tech-savvy family.

Ken

The decorations in the rooms were amazing and made my stay feel much more homey. The bed was super comfortable and I fell asleep easily. The location was ideal as I could easily walk to many fantastic dining areas, and it was only a short distance from various well-known shopping centers.

The view from the room was not very private. I had to keep the blinds closed the entire time. On top of that, the shower lacked a curtain, so water went everywhere in the bathroom. I had to mop the floor using my towels. Despite these small drawbacks, I will definitely return due to the positive experience overall.

Louise

Fairly clean, small hotel with accommodating staff. Nice building and rooms with microwave and refrigerator. Ideal location, walking distance to everywhere. The attached restaurant for great breakfast and more.

Andy

We ate at a nice restaurant for great breakfast and more. Modern decor, a flat-screen TV with cable channels, climate control and a microwave oven. Besides, the location was comfy and ideal for our stay, within 5 minutes' walk of Baba Sale Congregation.

Glenn

Comfortable room with amazing view and air conditioner, for instance. Comfy and fab location, 5 minutes' walk to a sprawling historic market.

Frank

Spotless and bright rooms on the top level for hotel guests. Central location in a nice area. Just off the Farmers Market, The Grove, and Santa Monica.

Ed

I loved this small hotel and stayed for 2 nights here. The staff members were pleasant and welcoming. It had central location close to Taschen Gallery.

Albert

The room was spotless and with coffeemaker as well as spa bath. Its location a 10-15 minute walk from a sprawling historic market was marvellous and comfy.

Mary

I liked that the room was spotless with a large bathroom, modern decoration and microwave and refrigerator. The staff team was welcoming. The location was ideal for walking around a sprawling historic market.

Frank

The room was recently refurbished and we liked a microwave oven, coffee/tea making machines and a fridge. The beds were extremely comfy and the bathroom was huge.
FAQ about Beverly Laurel Hotel
How far is Beverly Laurel Hotel from the city center?
Los Angeles city center is reachable within a 20-minute walk from Beverly Laurel Hotel.
What landmarks can I find in vicinity of the perfect Beverly Laurel?
Staying in the perfect Beverly Laurel, you shouldn't miss Los Angeles's main landmarks such as The Grove Shopping Mall (0.6 miles), Los Angeles County Museum of Art (1.1 miles) as well as the public La Cienega Park accessible with a 5-minute drive.
Which airport is the closest to the 3-star Beverly Laurel Hotel Los Angeles?
The closest airport to the 3-star Beverly Laurel Hotel Los Angeles is Los Angeles International airport (13 miles) and it is reachable with a 22-minute drive.
Is there parking at the perfect Beverly Laurel Hotel?
Yes, the perfect Beverly Laurel Hotel features a public parking available onsite.
Can I have lunch or dinner next to the Los Angeles hotel?
You can enjoy your lunch or dinner at Benito's Taco Shop and Market Provisions which lie about 500 feet from the Los Angeles hotel.
What time is check-in and check-out at the Los Angeles hotel?
Guests of the Los Angeles hotel can check in from 3 PM to 11.59 PM and check out from 11 AM.
How much does it cost to stay at Beverly Laurel Hotel Los Angeles?
The prices at Beverly Laurel Hotel Los Angeles start from $162.
What payment methods are available in Beverly Laurel?
Payment methods in Beverly Laurel include:
Visa
American Express
Mastercard
Which amenities are included in the rooms of Beverly Laurel Hotel?
Each room at Beverly Laurel Hotel offers a flat-screen TV with satellite channels, some units feature private bathrooms along with a bathtub and a shower.
Is there free internet in the hotel?
Yes, the hotel provides Wi Fi throughout the property free.
Is Beverly Laurel Hotel equipped with facilities for disabled persons?
Yes, bathrooms for disabled, visual aids (tactile signs) and wheelchair access are provided at Beverly Laurel Hotel for guests with special needs.
What is the cancellation policy in Beverly Laurel Hotel Los Angeles?
Beverly Laurel Hotel Los Angeles provides free cancellation.